With the new Captain Marvel movie (part of the MCU) with Brie Larson in the title role, we decided to grace you with this cool image of several Captains called Marvel...
From left to right: Mar-Vell in his original green and white Kree uniform, Carol Danvers as Ms. Marvel in her revealing sexy uniform, Carol Danvers again, in her other revealing, sexy Ms. Marvel Uniform, and then we see Mar-Vell again in his classic red and blue uniform.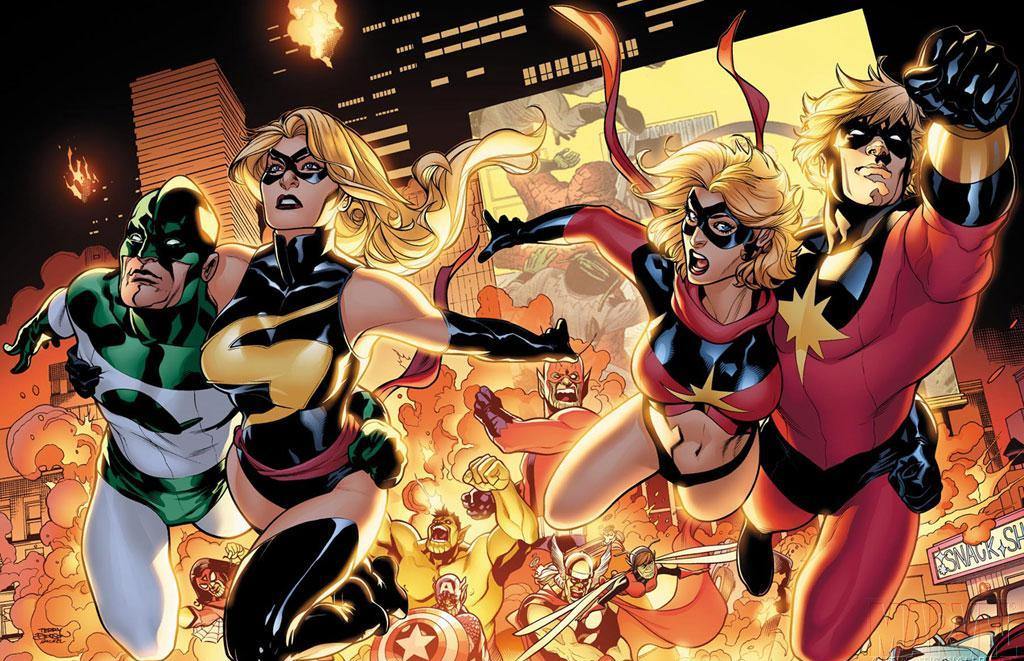 Carol Danvers (the current holder of the Marvel comics character name of Captain Marvel) is a fictional character appearing in American comic books published by Marvel Comics. Created by comic book writer Roy Thomas and artist Gene Colan, Major Carol Danvers first appeared as a member of the United States Air Force in Marvel Super-Heroes #13 (March 1968) and debuted as the first incarnation of Ms. Marvel in Ms. Marvel #1 (January 1977) after a fusion of alien Kree and human genes gives her superhuman powers, which occurred in Captain Marvel #18 (November 1969). Debuting in the Silver Age of comics, the character was featured in a self-titled series in the late 1970s before becoming associated with superhero teams the Avengers and the X-Men. The character has also been known as Binary, Warbird, and Captain Marvel at various points in her superhero career. She reluctantly took the name of Captain Marvel only after her friend and mentor, Captain America, convinced Danvers that she needed to continue the legacy of the late Kree Captain Marvel.
Due to her long history in Marvel Comics, Carol Danvers has been highly regarded. Danvers has been labeled "Marvel's biggest female hero," a "feminist icon," as "quite possibly Marvel's mightiest Avenger," She was ranked twenty-ninth in Comics Buyer's Guide's "100 Sexiest Women in Comics" list,[4] and was ranked #11 on IGN's "Top 50 Avengers". Marvel Studios announced a live-action film featuring the character, titled Captain Marvel and starring Brie Larson, which is scheduled for release in 2019.